buschhans
Medic-soldier

Joined: 08 Apr 2009
Posts: 219

Posted: Wed May 09, 2012 01:54

Post subject: New Forgotten Hope 1 campaign, Breaking the Wall opened!
---
New Forgotten Hope 1 campaign, Breaking the Wall opened!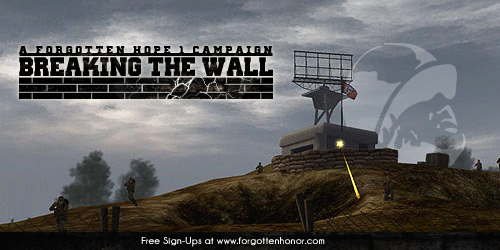 Forgotten Honor has a big history in the battlefield franchise. For many years we've already been organizing massive campaigns for Battlefield 1942 and it's various mods such as Forgotten Hope 1,Battlefield 1918 and Eve of Destruction. Today we are adding another campaign to that as Forgotten Honor has opened their 14th campaign Breaking the Wall for Forgotten Hope 1. Want to know more? Make sure you read on.

The new Forgotten Hope 1 campaign brings you to the fields of Normandy where you will fight across 15 battles. Choose between the famous Panzer-Lehr-Division or fight together with the allied in the 3rd Infantry Division.

Every Saturday evening, starting from 1900GMT, you will be put together with your division in 1 of the 15 large scale team-play emphasized battles, each taking place on it's own high quality custom made maps that are heavily tested by the community. And just like in all other campaigns in Forgotten Honor there are many ways to develop your career with ranks, medals and of course your teammates.

---
"As we approached the beaches, all I could think of was one specific line in the speech General Eisenhower before we left England:
ďThe free men of the world are marching to victory!Ē
I felt reassured as we left in the L.C.I.ís even though I could not hear myself think because of the hundreds of explosions around me.
I still canít describe the horror I saw when we stopped.
The hatch opens and suddenly the first 7 man die in front of me. I ran forward and as I approached the beach, i see my own friends a few feet away from me have their arms and heads shot off, i can only see bullets flying...
I donít even know where the hell we are, where is my company ? All i can think of is that the war has begun...
---

Play an unique experience for Forgotten Hope 0.7
Breaking the Wall has just started



Quote:
- Play a Forgotten Hope 1 campaign spanning 15 battles across the Normandy territory

- For the first time on a Forgotten Honor FH1 campaign, two invasion maps will be played as scrimm Dunkerque where allied forces were pushed out of the continent and their comeback at Utah Beach.

- Teamwork oriented armies employing strategies and co-operation with promotions and rewards for your achievements

- Large scale battles every Saturday at 19:00 GMT

- New maps produced by experienced mappers and tested extensively by the community to assure high level of playability

- New friendships with likeminded people from all over the world

- It is free and everybody is welcome
* Click here to go to the signups *
Have you got any Questions? Need support? Don't hesitate to send me a Private Message!